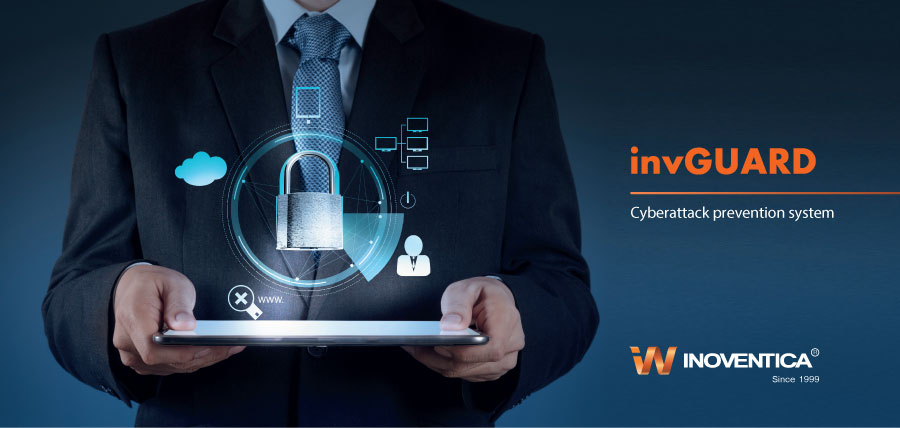 Cyberattacks have become an important weapon of corporate wars and competition. Network attacks are used as a tool of choice in dirty competition and state-scale cyberwars. A steady growth in the number of DDoS attacks and the increase of their capacity and complexity have been observed over the last years.
The role of cyber warfare in political struggle, both internal and at the inter-state level, has been growing steadily. To protect, Inoventica provides invGUARD, the solution offered by Inoventica Technologies.
---
Your benefits:
Flexibility and scalability
Any type of network architecture: border-like, P-PE-CE and others
Any network speeds: from Mbits to Tbits
Wide range of supported network hardware: Juniper, Cisco, Huawei, etc.
International Threat Center
Best international security experts
Regular invGUARD updates of new security event types
Real-time support in the case of an attack
Implementation and support
Easy & quick implementation
Rapid customer needs improvements such as new reports
Implementation, support and maintenance by experts
Low cost of ownership
Relatively low cost of ownership
Compact: 1U or 2U servers
Low power consumption: 0,5 kW per appliance
---

---
Technologies:
Traffic flow analysis: NetFlow v5, v9 and IPFIX, NetStream v5 and v9, sFlow

Router status and data: SNMP v2c and v3

Routings table and traffic flow management: BGP v4

OS: Linux (Red Hat, CentOS or similar)

x86 CPU: server hardware agnostic

KVM virtual machine support for invGuard AS

MySQL Database

Apache web server

Rapid traffic cleaning: special high-speed or Intel DPDK supported network cards
---
Performance
Up to 5 Tbits traffic analysis for cyberattack prevention

100+ routers in single management interface

20000+ managed objects

Multi-vendors environment: Juniper, HPE, H3C, Cisco, Huawei, Alcatel, Exterme, etc.

250+ customized views of traffic and objects

100+ types of detectable cyberattacks

10000+ threats per day

80- hours for on-site deployment

---
Support and maintenance
Free system updates within the Global Updates Programme
Technical support 24x7 or 8x5 time schedule
New custom reports from 2 weeks.
Integration with network management platforms – from 1 day
---
Implementation
Implementation takes 2 weeks for the typical network: 3-5 routers, 100 Gbt traffic flow
On-site and off-site implementation

Employee's training by invGUARD experts

---
We are always ready to help you find exactly the solution that will increase your profits,
or help solve a new problems.